High Tensile Field Fence Provides Support and Protection
Field fence, also known as woven wire, is made of horizontal wires that are permanently attached to vertical wires. It can be made from aluminium, low carbon galvanized, hot dipped galvanized wires or zinc-5% aluminum mischmetal wire. According to linking ways, it can be divided into three types: fixed knot field fence, square knot field fence and hinge joint fence. Because of their high strength and diverse types, field fences are all widely used in farms, plantations, ranches at home and abroad. It is usually used with hexagonal wire netting so as to improve the strength and protection effect.
FF-01:Fixed knot field fence
uses a separate piece of wire to secure the vertical stay wire to the line wire. This increases the overall strength of the fence and allows for increased post spacing.
FF-02: Square knot field fence
is strong enough to resist animal impact. The knots give vertical strength, reduce sag, and increase flexibility on undulating terrain.
FF-03: Hinge joint field fence
is the most common knot in agricultural fencing. The knot is formed by wrapping the vertical wire pieces around the line wire at each intersection.
Specifications of field fence:
Materials: high-tensile wire, low carbon galvanized wire, hot-dipped galvanized high carbon wire, low carbon cold galvanized wire or hot-dipped zinc-5% aluminum mischmetal wire.
Wire diameter: 1.8 mm – 2.5 mm.
Edge wire diameter: 1.9 mm – 3.5 mm.
Strength of horizontal wire: 1150 or 1350 N/mm2.
Strength of vertical wire: 400 or 500 N/mm2.
Length: 20-200 m/roll or customized.
Features of field fence:
High tensile strength.
Corrosion and abrasion resistance.
Stable structure.
High elastic limit and breaking strength.
Beautiful and smooth surface.
Light weight.
Easy to clean and maintain.
Applications of field fence:
Used in farms, grasslands, gardens, plantations, ranches.
Provides protection for poultry, livestock and plants.
Isolate wild animals, predators.
FF-04:
Fix knot field fence for horse fencing.
FF-05:
Field fence can keep horses away from danger and make them grow safely.
FF-06:
Field fence with hinge joints can prevent deer from running away.
FF-07:
The field fence can be combined with hexagonal wire mesh so as to improve its protection effect.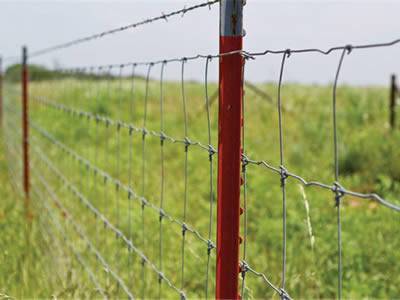 FF-08:
High tensile field fence with
T posts
is durable and can be used for a long time.
FF-09:
Field fences are used in grassland to protect plants.
Inquiry for Our Product
When you contact us, please provide your detail requirements. That will help us give you a valid quotation.